BRINGING THE OUTSIDE IN
Bi-fold doors are the perfect way for you to create space, let in fresh air and flood your home with natural daylight by being able to open up an entire wall of your home.
Whatever purpose you have for your bi-fold doors, the The Signature Collection product provides a truly stunning alternative to French or patio doors.
EXPLAINING ENERGY EFFICIENCY
The installation of energy efficient windows, doors and roofs is one of the best ways you can save energy within your home. Mainly due to our innovative uPVC multi-chambered profile design, The Signature Collection frames outperform most of the other leading brands in the UK. A door's thermal efficiency is measured in U-values. These demonstrate the effectiveness of a door at stopping the movement of heat into and out of a property. The lower the U-value is, the higher the door's efficiency at preserving the heat inside of a building when cold outside, resulting in reduced energy costs.
INNOVATIVE
Slim hinges have been added, with hidden fixings inside. This not only seamlessly preserves the sleek lines but increases security as it is impossible for them to be unscrewed externally. We designed our own innovative solution to enable us to offer a low threshold without the need for expensive and messy excavation. It's often the little things that make a big difference – we've even designed folding keys to avoid any problems with keys being left in the locks during use.
ULTRA-SLIM SIGHTLINES
The Signature Collection bi-fold doors have ultraslim sightlines, providing rooms with a modern, clean appearance – and are available in a wide choice of opening configurations and colours. The innovative low threshold option is just one of the safety features included, making them family and wheelchair friendly. Find out about the range of thresholds available from your sales representative.
Standard Colour Options

Rosewood both sides*

Golden Oak both sides*

Anthracite Grey both sides*

Cream foiled both sides*

White foiled both sides*

Ebony Black both sides*

Irish Oak both sides*

Smooth Cream through colour*
Bespoke Colour Options

Rosewood on White*

Golden Oak on White*

Anthracite Grey on White*

Cream foiled on White*

Chartwell Green on White*

Ebony Black on White*

Oregon

Anteak

Agate Grey

Silver Grey

Basalt Grey

Grey

Blue

Dark Green

Dark Red
Colours marked * are from our standard collection in featured profile, all other colours are subject to price and availability on application. Please note: colours are for illustration purposes, for an exact example please ask your sales representative for a Renolit swatch sample. Choose from a wide variety of colour options including: White, Rosewood, Cream, Light Oak, Chartwell Green, Grey and classic Ebony Black. The Signature Collection products are also offered in a wide choice of bespoke colours, please see Renolit foil book, (subject to availability and price on application only). Please note: Ebony Black both sides patios and bi-folds are subject to lead time.
Additional Information
10 Years Profile Warranty
Available from an entry level "C" Rated to an "A+"
Energy rating
Smooth easy action
Full colour range
Hook locking with shootbolts
Secured by Design option
Minimum size 600mm w x 1850mm h (sash opening sizes)
Maximum size 800mm w x 2150mm h (sash opening sizes)
Slim sight lines (less frame more glass)
8mm sash coverage (best rating for air leakage)
Unique patented double action gasket (30% better compression)
Centralised Euro groove (improved strength and security)
 Square cut and scribed beading (ease of glazing)
Single J leg security beads (ease of glazing)
Anti static profile (easy to clean)
32mm Channel packers factory fitted, resulting in huge efficiencies on site glazing, toe and healing packers fitted in position ensuring safe and quicker glazing
All frames are designed to be coupled in many configuration including patio configurations to casement windows
Multiple add on's 10, 20 and 50mm allowing you the perfect choice for every installation
Our system has been designed with the future in mind, uniquely negating the need for the traditional steel reinforcing systems, the benefits being an industry leader in energy efficiencies together with a safer future for the environment, a lead free system with unique PVC inserts that have the same tensile strength of reinforcing
STANDARD BI-FOLD CONFIGURATIONS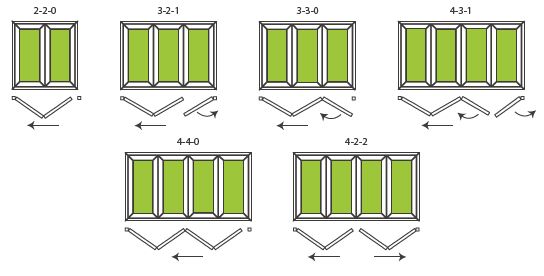 Your Bi-Fold Plus benefits from being fitted with the most robust locking mechanisms on the market!